In preparation for your pageant, it will take mental stamina, a beautiful wardrobe that looks like it was designed just for you, flawless make-up application, interview preparation, and most definitely, a confident and eye catching walk. But just imagine having all of these components, but placing them on a body that is not in the very best shape next to a lineup of girls who have spent countless hours in fitness preparation. No matter the perfection on the outside, if your fitness is not up to par, most times you lose by default. In general, fitness preparation requires more time, energy and focus than any other component in pageantry but most lack the discipline and self-control required to master the task. Take time to really analyze where you are and then where you want to be…the road to capturing the crown really begins when no one else is looking.
In light of the 2012 MISS USA Pageant and Teen USA just around the corner, it is time to present our parade of gowns! These highlighted MISS USA gowns will set the bar for the 2013 pageant season and we want to give "snaps" where credit is due! The trend this year seems to have branched off from the traditional form fitting pageant gown (Although we do love those!) and lean more towards the 3 "F"s: Fun, Flirty and Flowy gowns. Jersey and illusion gowns were also a big hit on the pageant stage. Here are some of our nominees for this year's MISS USA pageant trailblazers!
This year, like many in the past, we saw white lead the pack in numbers. Maryland took advantage of all the tools that would make her body look fab. White looks GREAT on her and she knows it! The neckline of this dress in conjunction with the high slit displays her amazing legs and height, and the pattern around the bust and her mid section created an amazing waist. Nana got it right and the judges agreed.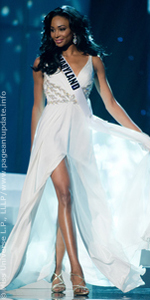 Georgia looked amazing in this white jersey number that was all about her body. The dress defied gravity in a backless, long sleeved dress that we are sure many will try to duplicate this fall. She looked 10 feet tall and all glamour in the simple yet oh so sexy and stunning white jersey gown. Speaking of Jersey, we loved New Jersey's white gown that fit her like a glove. It is all about the fit and fabric and both of these ladies nailed it.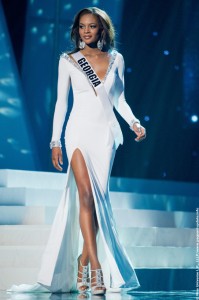 We lost our mind when we saw this dress. Sexy in a color! So often we see illusion done in white, black or champagne (more on that later). I love that she took a chance here, not only with the color but coming away from the traditional appliqué elusion. They say that everything is bigger in Texas and Texas had a big hit. Plus, the fit was perfection!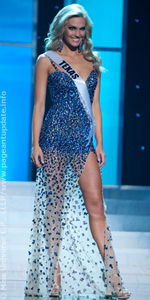 Love it or hate it, you were talking about it! As we don't think many blondes could pull this off, this dress was a risk but a SHOWSTOPPER. It just worked for her. Canary yellow usually washes blondes out but she got the shade perfect on her skin tone. We think we'll be seeing a lot more yellow this fall at the state level. Ohio is absolutely a pageant trendsetter!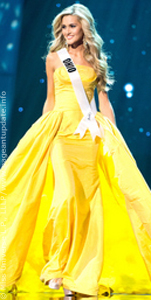 Simple and sophisticated with a pop of color! It's not often we spot jewel tones on the big stage, so it was refreshing to see! This girl is all about the face and she knew NOT to overdo it in the gown department. This was a classic dress with a great waistline to camouflage her lack of height next to the Glamazons surrounding her. Chiffon seems to be a growing trend among the Miss contestants, too. Flowy dresses are no longer just for Teens, they are fun to "work" and can add a bit of fierceness to a performance.
Illusion gowns were back and better than ever and a few of our favorites were Michigan, New Mexico and New York. Their gowns all showed off their hard work at the gym and focused on the figure and the face…a winning combination for all three!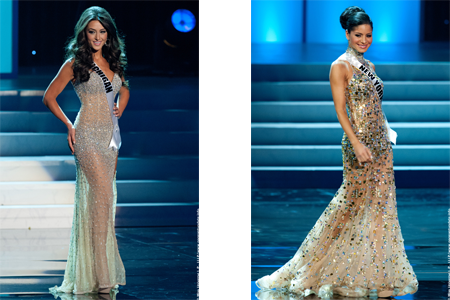 If you had to double take these two gowns because they looked familiar you we're right! They are the J'adore Dior and Elie Saab perfume ad gowns. We love when true fashion and runway looks make it to Miss USA, (done right of course) and these were exceptional. Well done ladies! It is VERY difficult to replicate a dress especially with such attention to detail. We wish more contestants would give this a shot, it would give pageantry more credibility in the fashion world.


Cannot wait to see the TEEN USA gowns in a few weeks! Send us a few of your gown favorites to Coaching@prpageantcoaches.com. You may be featured in one of our upcoming style blogs!
Now we all know that feeling, at the end of pageant week when you never want to wear another pair of heels, EVER AGAIN…. But like a true pageant girl we're wearing them the next day. But that pain on our little piggies and all those blisters can be unbearable. Now there is really no solution to it (sorry to burst your bubble) but there are things you can do to avoid terrible pain, or future irreversible damage to your feet.
First thing, when you're getting your pedis (pedicure) make sure they aren't scraping the bottom of your feet. Yes that giant, hard callus on the bottom of your foot is actually helpful when you're about to spend hours upon hours on your feet. That little area that starts changing color on the bottom of your foot, that's the area that should only be buffed and NOT scrapped off during your pedi. Building this callus on the bottom of your foot will help create a barrier on your foot to help with the pain that develops in THAT spot from wearing heels. Something that might feel good at the moment is taking them off and being flat, but this will actually hurt you more when it's time to slip back into your shoes. When you get a chance, elevate your feet, but don't take off your shoes!
We have talked about calluses, now let's talk about your best friends during pageant week…blisters! Although they are not pretty, they will be lifesavers for your feet. Whenever you get a blister, if you're lucky enough to develop one without having it burst open, it'll be perfect. Here's why, that water blister is what you need to build that callus. Do not pop them, and try to prevent it from popping during walking. Put Band-Aids (the water proof ones), but whatever you do don't let it pop, this is where the callus will form insuring you won't get a blister there again. Well what if it did pop and now there's an open wound that hurts? Carry with you Anbesol (Oral Analgesic), yes the one they sell for mouth sores, dab a bit on your open blister and cover with a water proof Liquid Band Aid (ballerinas do this). The Anbesol will numb the blister until you are able to get back home to take off your shoes, once you do, just rinse it, and dab some Neosporin on it but don't cover it up, let it air dry. Liquid Band Aid is also AMAZING for this, it also coats your toes and blisters, and even with new heels, helps alleviate pain.
Ballerinas have calluses all over their toes from the blisters that once were. These will be able to go away once pageant season is over, but for now let that callus build. But also make sure you have the right shoes on. There are horrific cases with women not wearing the right shoes which can deform your feet.
Icy Hot or Bengay is great for those hurting footsies as well. It will also help to numb the pain away and relax your feet. Only do this at the end of the day, as you don't want an accident and your feet slipping during walking. Since we aren't going to be removing those calluses for a while, a good thing to do is to rub Vaseline on your feet and sleep with socks. It's soothing, and inexpensive to buy.
Speaking of inexpensive, we have all seen those foot rollers (Bed, Bath & Beyond, Walgreens, etc…) If you already have one, great! If not, don't waste your money…Keeping it basic — A Tennis Ball is great way to massage the bottom of your feet! Always do this, it'll keep those ligaments flexible and get circulation flowing. Tennis Balls are easy to pack and easy to find!
If your feet are swollen, do an Epsom Salt soak. At the end of the day, in your tub, just soak your feet for about ten minutes in warm water, maybe toss in some Lavender to help relax you, and then off to bed. Epsom salt helps eliminate excess fluid from your feet, which in turn your feet won't look like potatoes. When you're in bed keep your feet elevated, which will help the circulation in your feet and will ensure they won't be swollen the next day, and your shoes won't be tight.
Sometimes your feet hurt so much that you will need to submerge them in some ice water for about ten minutes (no more so that it doesn't cause nerve damage) to help with the pain, you can then do a warm soak in Epsom Salt to get that circulation going again.
Happy feet make for a happy contestant!
How many times has your mother told you to stand up straight? Well as the old saying goes, "Mama knows best!"
Lets visualize this for a moment. You're standing in your first mark on the stage and the spotlight hits you. Do you want to be the "Inward and Closed" girl or the "Open and Outward" showstopper? I'm guessing the showstopper, so think long, tall and lean. Did you know you could take up to five pounds off your look by simply standing up tall?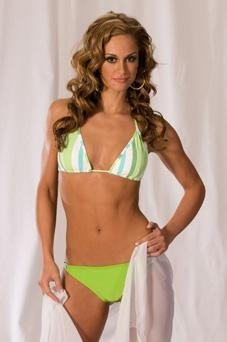 Here's how to achieve your goal. First and foremost, like everything in life that is new this is going to stem from your everyday routine. So while you're standing in line at Starbucks waiting for your skinny vanilla latte check your posture. Are you standing up tall, pulled up from your rib cage, shoulders back and relaxed, with your abdomen contracted? If not fix it and try to stay aware of it until it becomes comfortable a natural.
This will carry over to the stage and the interview room. Remember you only get one time to make a first impression, so when that spotlight hits you, be memorable for the right reasons!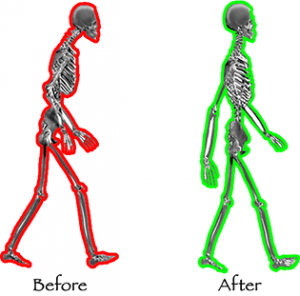 As a pageant competitor, we all know how to pick out the perfect interview outfit, the perfect swimsuit that fits our body and the perfect gown each and every time, right? I wish that was the answer but all too often we see on stage, ill fitting swimwear that looks as though there is enough room for two in there and gowns that are too big, too tight, and I cringe even thinking about it…too short!!!!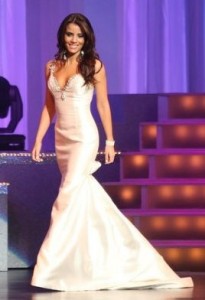 Why spend all that money to look fabulous and not spend the money to get it tailored to fit perfectly? Find yourself a tailor you can trust and your wardrobe will fit like a Queen. Often times, the local gown shop or high end department store such as Neiman's or Saks will have access to some of the best tailors around. Don't be frugal when it comes to alterations and make sure not to get your alterations done too early before competition as your weight and body shape will fluctuate. Also, be sure to bring in the heels you plan on wearing with the outfits. Your gown should be floor length, NOT ankle length. Make sure you walk in it when you are at the tailor so you can see where it hits during movement.
Make sure your wardrobe fits you fabulously!
A great body just does not happen overnight, unless you are taking extreme measures which are never recommended. With the influx of diet pills, crash diets, and drastic exercise measures and regimens, you must be extremely cautious not to think so short term. Of course I want you to succeed, but there is life, love, and maybe even a family of your own, after the crown. Thinking futuristically is important (I cannot stress this enough). There are so many medical issues associated with eating disorders and synthetic drugs, that you will surely get more than you bargained for in the end. Reading the fine print on what you allow into your body is so important and can save you unnecessary head and heartaches.
Being beautiful is important, but also be brilliant and think before you act.
Ever feel inclined to reach over and take the microphone from your emcee? Not feel very confident and shrug your shoulders or roll your eyes? How about searching for the answer somewhere up in the ceiling?
Whether you are speaking to a small group in an intimate setting or an auditorium filled with guests, it is all about staying confident. Being confident and having grace under pressure is something that every titleholder should possess.
By being "in the moment" and EMBRACING the OPPORTUNITY in front of you, let that moment in the spotlight be YOUR moment to impress by the way you address!
Whether you are meeting the judges on a one-to-one basis, a panel setting or answering an onstage question in front of thousands of people, your delivery should be confident and to the point. No need to paraphrase, elaborate, ramble and recite the theory of relativity…just BE YOU! One of the biggest mistakes contestants make is to be a lightning fast talker!
Getting through your interview or on-stage question should NOT be your goal! You goal is to make a positive impression. Pace yourself and remember to speak at a normal (or even slightly slower) pace when you're speaking publicly.
When you are nervous, never let them see you sweat…or should we say glisten?